This is the second time that I have used Gauge Saver to repair my boat gauges and all I can say is wow!!!.  I would definitely recommend everybody to use your company for their gauge repairs.  The whole process was great from the shipping, communication, payment and receiving my repaired gauges was effortless.  I never thought these gauges could ever look this good again.  Just wanted to say thank you to the crew at Gauge Saver for their awesome work and company.  
Thanks,
Allen B. Myrick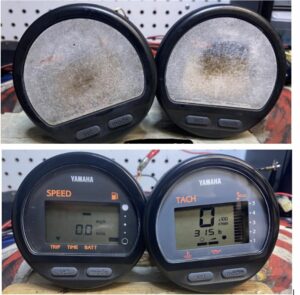 Let me tell ya, I hate spending money on boats, it's never fun for me. This place I was happy to pay. They saved me hundreds on a new unit. The first time walking into the place I was greeted and walked through the repair process. Just an email back when they said it was going to be ready. To the day, that's great service. Very fair pricing and super staff. It's hard to find these days. Thanks again GaugeSaver! -Will
I discovered GaugeSaver on E-Bay while looking to replace two RayMarine gauges that were no longer readable. GaugeSaver repaired my gauges and returned them to service at a fraction of the cost of new ones. One gauge had a minor soldering issue which they repaired without question under warranty. Prompt professional service; reasonable pricing (very reasonable); they stand behind their work. I could not have been more pleased with their service.
Thank You! Y'all did an excellent repair job, as always I am amazed with your quality and expertise workmanship!
I cannot tell you how pleased I am with your top notch service.  Thank you so much.